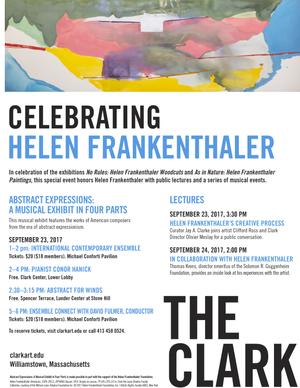 Helen Frankenthaler's Creative Process, Curator Jay A. Clarke joins artist Clifford Ross and Clark Director Olivier Meslay for a public conversation
The Clark Art Institute, Williamstown, MA
September 23, 2017
Jay A. Clarke, curator of No Rules: Helen Frankenthaler Woodcuts, joined artist Clifford Ross and Olivier Meslay, Felda and Dena Hardymon Director of the Clark, for a public conversation. The panel focuses on Helen Frankenthaler's creative process, methods, and materials, as well as public reception of the artist's works.

Speakers discussed Frankenthaler's dynamic in the art-making process by looking at her painting and print-making methods and how the results, whether she was alone in the studio or surrounded by collaborators, pushed the limits of a given medium. Frankenthaler was a student of art history and was deeply affected by the art of the past; as such, panelists considered the works of artists such as J.M.W. Turner and Piero della Francesca—both represented in the Clark collection—which neatly represent the opposing elements of Frankenthaler's art and process. Methods, predecessors, and interpretation will all be discussed as they relate to Frankenthaler's critical reception during her lifetime and after.
* * *
In addition to the lecture, a series of musical events were held honoring Helen Frankenthaler, in celebration of the exhibitions No Rules: Helen Frankenthaler Woodcuts and As in Nature: Helen Frankenthaler Paintings.