Current
Tracing Lineage: Abstraction and its Aftermath
Bruce Museum
Greenwich, CT
November 18, 2023 – March 17, 2024
From its heyday in the 1940s and '50s, abstract art gained momentum in the postwar United States and remains a touchstone for artists working today. Tracing Lineage: Abstraction and its Aftermath addresses key art-historical movements, including Abstract Expressionism and its various permutations—from Action Painting and Color Field to Minimalism and Postminimalism—while also showcasing work by contemporary artists whose investigations of color, form, and material elucidate the ongoing legacies of painterly abstraction.
Upcoming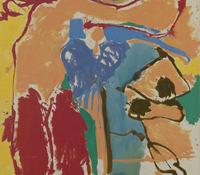 Helen Frankenthaler: Painting without Rules
Palazzo Strozzi
Florence, Italy
September 27, 2024 – February 2, 2025
The largest presentation of Helen Frankenthaler's work in Italy, this survey comprises 33 of Frankenthaler's poetic abstractions in an examination of her artistic affinities, influences, and friendships. The exhibition interweaves paintings Frankenthaler created between 1953 and 2002 with select works by some of her contemporaries, including Anthony Caro, Morris Louis, Robert Motherwell, Kenneth Noland, Jackson Pollock, Mark Rothko, David Smith, and Anne Truitt.
In addition to significant loans from the Helen Frankenthaler Foundation as well as international museums and private collections, the presentation also features works by her peers that were part of the artist's personal collection.
Co-organized by Fondazione Palazzo Strozzi and the Helen Frankenthaler Foundation, the exhibition is curated by Douglas Dreishpoon, Director, Helen Frankenthaler Catalogue Raisonné.