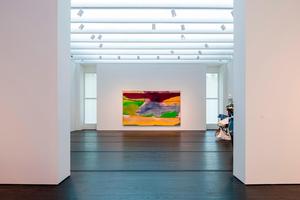 In Dialogue: Helen Frankenthaler's Abstraction
Online Program by the Menil Collection
October 6, 2020
Elizabeth Smith, Executive Director of the Helen Frankenthaler Foundation, joins Natalie Dupêcher, Assistant Curator of Modern Art, for a conversation about Helen Frankenthaler's pivotal role in post-war American art. They will consider how the artist pioneered a highly original form of abstraction by looking at a selection of her works, including the monumental painting Hybrid Vigor, 1973, which is currently on view in the Menil Collection. On loan from a private collection, it is the first time this work is presented at a museum since it was acquired in the 1970s.
Helen Frankenthaler (1928 – 2011) had a distinguished and prolific career that spanned six decades. A highly influential figure in the Abstract Expressionism and Color Field Painting movements, she is known for her invention of the "soak-stain" technique, which expanded the possibilities of abstract painting. Her work has been the subject of numerous solo museum exhibitions, as well as three major monographs: Frankenthaler, by Barbara Rose (1972); Frankenthaler, by John Elderfield (1989); and Frankenthaler: A Catalogue Raisonné, Prints 1961–1994, by Suzanne Boorsch and Pegram Harrison (1996).
The live event will stream directly on the page linked below, and on the Menil's YouTube channel on Tuesday, October 6, at 6:00 p.m. CDT. No login or RSVP is required. You are invited to submit your questions for the speakers in advance and during the program to programs@menil.org.