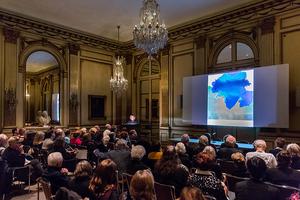 Helen Frankenthaler: A Symposium
Institute of Fine Arts, New York University
October 23, 2015
The James B. Duke House
1 East 78th Street
New York, NY 10075
The Institute of Fine Arts, NYU is pleased to announce a symposium exploring new perspectives on the work of artist Helen Frankenthaler (1928-2011). The event will take place at the Institute's James B. Duke House on Friday afternoon, October 23, 2015, from 1:30 to 6:30 p.m. Co-organized by Robert Slifkin, Associate Professor of Fine Arts, Institute of Fine Arts, and Pepe Karmel, Associate Professor of Art History, NYU, in partnership with the Helen Frankenthaler Foundation, this afternoon program will feature presentations by five leading scholars of postwar modern art.
Eric de Chassey (Director, Académie Française, Rome) will address Frankenthaler's "Negotiations" between nature and abstraction and between process and gesture. Anna C. Chave (Professor, CUNY Graduate Center and Queens College, New York) will speak on "Frankenthaler's Fortunes," and how social privilege may have affected her position—and self positioning—in the art world. Pepe Karmel will give a "Weather Report" on opticality and liquidity in the work of Frankenthaler and Gerhard Richter. Katy Siegel (Thaw Professor, Stony Brook University) will discuss "The heroine Paint," and how decoration, feminism, and materiality have evolved in the years after Frankenthaler. Harry Cooper (Curator and Head of Modern Art, National Gallery of Art, Washington, D.C.) will serve as respondent. The symposium will also include a screening of Perry Miller Adato's documentary Frankenthaler: Toward a New Climate, made for PBS in 1978. For the detailed program please scroll down for the schedule.
Helen Frankenthaler has long been recognized as one of the great American artists of the twentieth century. An heir to first-generation Abstract Expressionism, she invented the technique of "staining" color directly into raw canvas, and was a leader among the Color Field painters of the 1960s. Refining her own abstract vocabulary from the 1970s onward, she continued working productively through the opening years of this century. Influential on other artists after Morris Louis and Kenneth Noland first saw her work in the early 1950s, since 2000 her art has inspired a new generation of younger painters such as Carrie Moyer, Jackie Saccaccio, and Mary Weatherford. Her work is represented in museum collections worldwide and has been the subject of numerous national and international exhibitions and substantial publications.
Patricia Rubin, Judy and Michael Steinhardt Director of the IFA, notes, "We are pleased to have the opportunity to work with the Helen Frankenthaler Foundation on this important event that will help shape the discourse on Frankenthaler's work for a new generation of scholars."

Schedule
Friday, October 23rd, 2015
1:30pm - 6:30pm
Organizers: Robert Slifkin, Associate Professor of Fine Arts, Institute of Fine Arts, and Pepe Karmel, Associate Professor of Art History, New York University

Program

1:30 pm - Opening remarks by: Patricia Rubin, Judy and Michael Steinhardt Director, Institute of Fine Arts, and Elizabeth Smith, Executive Director, Helen Frankenthaler Foundation
1:45 pm - Screening of Frankenthaler: Toward a New Climate (1978) by Perry Miller Adato
2:15 pm - Anna Chave, Professor, CUNY Graduate Center and Queens College, NY: "Frankenthaler's Fortunes"
3:00 pm - Eric de Chassey, Director, Académie Française, Rome: "Negotiations"
3:45 pm - Break for refreshments
4:00 pm - Katy Siegel, Thaw Professor, Stonybrook University: "'The heroine Paint': After Frankenthaler"
4:45 pm - Pepe Karmel: "Weather Report"
5:30 pm - Harry Cooper, Curator and Head of Modern Art, National Gallery of Art, Washington, D.C.: Respondent
6:15 pm - Reception